Kegworth War Memorials
Lest We Forget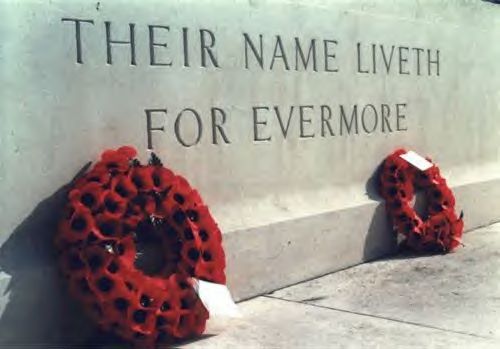 Research carried out by Geoff Sewell - Courtesy of Kegword
The Kegworth War Memorials situated in the Church wall, paid for by public donations, maintained by the Parish Council, with the day-to-day cleaning and placing of flowers carried out by Shepshed Charnwood Rotary Club, list 58 men from the First World War and 14 from the Second World War who died in the conflicts.
For the Millennium edition of the Kegword, they listed those 72 men together with additional information that they were able to collect. There still remain several men for whom we either do not have any further details or who cannot be positively identified from the records: so if anyone is able to provide any information, then this would be appreciated.
The details behind the names on the plaques give various examples of poignant family tragedies and some tragic notes, in particular, July 14th 1916, when five Kegworth men died including two brothers. As mentioned, we would appreciate any additional information, stories or photographs that could be included, both here and in future issues of the magazine.
Having read through all the names and service details, perhaps you might give the Memorials more than a passing glance as you hurry by and remember the great sacrifice made by so many in two World Wars.
World War I
Rank
Surname
Forenames
Service No.
Date of Death
Age
Regiment etc
Private
Archer
John
8195
Wed. Nov4 1914
29
2nd Battalion York & Lancaster Regt.
Seaman
Ball
Charles
R/5298
Sun. Aug25 1918
Hawke Battalion RN Div. Royal Naval Vol. Reserve
Private
Baxter
George
31852
Mon. April 23 1917
42
10th Battalion Sherwood Foresters (Notts & Derbys Regt.)
Gunner
Bettsworth
John William
162605
Sat. Sept 28 1918
38
353rd Siege Battery Royal Garrison Artillery
Private
Booth
H
Corporal
Bowler
Joseph
5879
Wed. May 12 1915
38
BCoy 1st Battalion Sherwood Foresters (Notts & Derbys Regt.)
L/Corporal
Cook
John
29696
Sun. April 14 1918
2nd/7th Battalion Royal Warwickshire Regiment
Private
Corah
James Henry
PS/9800
Mon. Nov 13 1916
7th Battalion Royal Fusiliers
Private
Corke
Richard Arthur
M2/183141
Thu Nov 30 1916
26
244th Mech Transport Coy Army Services Corps
Captain
Crane
James Robert
Wed May 8 1918
37
Army Veterinary Corps.
Private
Cross
Joseph Percy
12915
Sun. Sept 24 1916
23
D Coy 7th Battalion Leics. Regt.
Private
Culpin
Reginald
77656
Mon. July 1 1918
19
A Coy 2nd Battalion Durham Light Infantry
Corporal
Doughty
George
34487
Wed. July 31 1918
7th Battalion Leics. Regt.
Private
Dumelow
Harry
21468
Thu May 3 1917
9th Battalion Leics Regiment
Corporal
Frisby (MM)
H
Private
Gamble
G
Private
Hallam
W
Private
Hickling
Harry
4186
Wed. Aug 16 1916
23
5th Battalion Leics Regiment
Lieutenant
Hopkinson
Edward
Mon April 23 1917
8th Battalion Sherwood Foresters (Notts & Derbys Regt.)
Private
Horobin
James
40711
Thu Sept 19 1918
22
1st Battalion Leics Regiment
Private
Hudson
W
Private
Hudson
Peter Frederick
21150
Fri. July 14 1916
39
7th Battalion Leics Regiment
Private
Hutchinson
William
12922
Fri. July 14 1916
21
7th Battalion Liecs Regiment
Lieutenant
Joyce
George Edward
Wed.Sept 16 1916
10th Battalion attached to 7th Battalion Leics Regiment
Stoker
Kent
William
K/9378
Thu June 1 1916
HMS Fortune, Royal Navy
L/Corporal
Marchant
Frederick
307640
Wed. Sept 26 1917
23
2nd/8th Battalion Sherwood Foresters (Notts & Derbys Regt.)
Private
Marchant
John Arthur
333919
Mon. March 18 1918
19
9th (Glasgow Highlanders) Batt'n Highland Light Inf.
Private
Marshall
William Cyril
59790
Thu April 25 1918
19
lst/5th Batt'n W. Yorks. Regt. (Prince of Wales Own)
Private
Mellors
John Frederick
18865
Mon. Sept 11 1916
22
1st Batt'n Sherwood Foresters (Notts & Derbys Regt.)
Corporal
Morgan
Giles
6629
Sat. Feb 20 1915
31
1 st Batt'n Sherwood Foresters (Notts & Derbys Regt.)
L/Corporal
Newham
Benjamin
241117
Mon. April 9 1917
2nd/5th Battalion Leics Regt.
Private
North
Samuel Hutchinson
28829
Thu Sept 30 1915
18
13th Battalion Sherwood Foresters (Notts & Derby Regt.)
Private
Orme
Frederick
31802
Thu Jan 19 1917
35
6th Battalion York & Lancaster Regt.
Private
Orridge
F
Lieutenant
Pepper
Bertram
Tues.Oct 1 1918
28
Royal Air Force
Gunner
Poxon
Harry James
129838
Wed. Aug 15 1917
30
346th Siege Battery Royal Garrison Artillery
Captain
Rothera
C
Private
Rowbottom
Edward
13760
Thu Aug 10 1916
28
4th Battalion Grenadier Guards
Corporal
Salt
George William
41399
Mon. April 9 1917
26th (Tyneside Irish) Battalion Northumberland Fusiliers
L/Corporal
Sault
Percy Henry
241762
Wed. April 17 1918
24
2nd/6th Battalion Sherwood Foresters (Notts & Derbys Regt.)
Private
Saunders
Bernard
33953
Tues. Nov 20 1917
1st Battalion Essex Regt.
L/Corporal
Shillcross
John Henry
8601
Sat. July 11916
8th Battalion York & Lanes Regt
Private
Shillcross
Frederick
20809
Fri. July 14 1916
28
7th Battalion Leics. Regiment
Private
Shillcross
William
12946
Fri. July 14 1916
32
7th Battalion Leics. Regiment
Private
Sibson
George Frederick
45933
Wed. Nov 29 1916
24
9th Batt'n Sherwood Foresters (Notts & Derbys Regt.)
Private
Smith
F
Private
Stevenson
J. G.
8311
Wed. Aug 23 1916
35
1st Battalion Lincolnshire Regt.
Private
Sullins
William Peter
1670
Wed. Aug 29 1917
37
16th Battalion Middlesex Regt.
Lt. Colonel
Thornton DSO
Geoffrey St. Leger
Mon.Feb4 1918
37
Royal Field Artillery
Private
True
George William
44577
Mon. 0ct28 1918
1st Battalion Yorkshire Regt.
L/Corporal
Wallis
James
201184
Fri. March 22 1918
25
2nd/4m Battalion Leics. Regt.
Private
Wallis
William
267458
Thu Sept 27 1917
2nd/7th Batt'n Sherwood Foresters
Rifleman
Ward
Frederick
A/200130
Thu Oct 26 1916
21
C Coy 17th Battalion Kings Royal Rifle Corps
Private
Watt
Frank
47762
Sun. July 1 1917
2nd Battalion Sherwood Foresters
2nd Lieutenant
Wilson
John Hardy
Sat. April 7 1917
33
8th Battalion Sherwood Foresters (Notts & Derbys Regt.)
Gunner
Woolley
Benjamin
77549
Sat. Feb 3 1917
160th Siege Battery Royal Garrison Artillery
L/Corporal
Yates
John
15202
Fri. July 14 1916
9th Battalion Leics. Regt.
Private
Young
Harold Ernest
243059
Sun. May 20 1917
25
lst/5th Batt'n Leics. Regiment
World War II
Rank
Surname
Forenames
Service No.
Date of Death
Age
Regiment etc
Stoker 1st Class
Baxter
Reginald Louis
P/KX 602478
Fri Feb 17 1945
18
HMS Bluebell
Leading Aircraftman
Bowler
John Thomas
1355915
Fri Feb 5 1943
26
RAF Volunteer Reserve
Corporal
Brooks
Frederick Harold
T/146677
Fri May 27 1944
29
Royal Army Service Corps
Boy 1st Class
Buckley
Cecil Arthur
P/JX 154023
Wed. Jan 10 1940
17
HMS Nelson
Fusilier
Buxton
Thomas Henry
6982976
Sun.0ct29 1944
32
1st Battalion Royal Inniskilling Fusiliers
Boy 1st Class
Hall
William Roy
P/JX 158939
Fri. Oct 14 1939
17
HMS Royal Oak
Flt Engineer Sgt
Mooney
John Francis Arthur
1817442
Wed. Feb 21 1945
24
576 Squadron RAF Volunteer Reserve
Air Gunner W.O.
Page
Ernest Henry John
625177
Tue Aug 15 1944
26
178 Squadron RAF
Private
Pepper
George
5117834
Tue Nov25 1941
28
1st Battalion Herts Regiment (Beds & Herts)
Lance Bombardier
Robertson
Andrew Keith
926948
Mon.Dec21 1942
27
4 Survey Regiment Royal Artillery
Trooper
Shillcross
George William
7939650
Mon.Apr6 1943
33
50th Royal Tank Regiment RAC
Private
Smith
John Arthur
14725064
Sat. May 26 1945
19
Leicestershire Regiment
Sergeant Pilot
Walton
Eric Egbert
1583692
Fri.Augl 1944
21
RAF Volunteer Reserve
Warrant Officer
Walton
William Henry
1443476
Mon. July 2 1945
23
267 Squadron RAF Volunteer Reserve